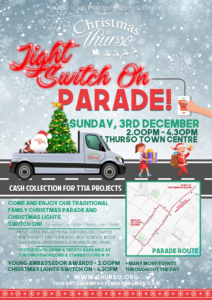 We're trying something new for 2017. From 2pm on Sunday 3rd December, we'll award our Young Ambassadors recognising yet more young people for their contributions towards our community. We'll then begin the parade of decorated lorries along with dancing demonstrations, Caithness Big Band and much more. We'll parade from outside Caithness Horizons Museum, through the high street and onwards towards the community Christmas Tree in Sir John's Square where we'll switch on the town's lights.
We're thrilled that lots if not most shops in Thurso will be open for the day for people to continue their Christmas shopping while they enjoy the lively, Christmas atmosphere. Caithness Horizons Museum and Corner Store @19 will be offering hot beverages and sweet treats to keep you toastie while you enjoy the festivities.
Thereafter, once the lights are on and we've all belted out a few rounds of Jingle Bells, we invite you to a family disco in Skinandis nightclub which will end approx 6pm.
We hope to see you all there!